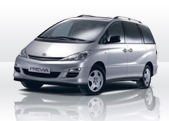 Toyota Previa GPS Tracking
Track your Previa for free and visualize it on map
Produced from:
1990
Produced to:
How to track your favourite Toyota - model Previa in realtime for free ?
Producer remarks about this particular model
Toyota Previa - a compact car (minivan) is produced by the Japanese car manufacturer Toyota company since 1990. Also known as the Toyota Estima (for the Japanese market) and in Australia as Toyota Tarago. It is available in four- and five versions and equipped with an engine of 2.4 liter petrol or 3.5-liter (3rd generation). Previa model is put into production in 1990. It had four doors, front driver and passenger, sliding (one) on the side and a large (flap) on the back. Equipped with a 4-cylinder petrol engine located under the front seats. Two versions were available with rear and four-wheel (called All-Trac), powered by 134 hp 2.4-liter engine with fuel injection. Equipped with a 4-speed automatic or 5-speed manual gearbox. This model had seven or eight locations, configurations with three seats. Previa first generation was characterized by the following parameters: 4750 mm long, 1803 mm wide. In Japan, were produced two smaller versions of the Toyota Estima Lucida Toyota Estima Emina and that was about 110 mm narrower and 70 mm shorter than the standard model. The reason for this difference is a Japanese system of vehicle taxes based on the size of the car. Estima Lucida Estima Emina and are also available with a 2.2 liter diesel engine (popular in the UK).
Our product description
We are offering you completely free of charge our GPS car tracking solution in real time. The only thing you need to do is to install smartphone with Android inside your vehicle with our awesome application on board
If you want to track your Toyota Previa in real time you have to do the following :
1. Download Free Car Tracking Application for Previa application from Google Play
2. Create free account on spysat.eu (for example johndoe) - here is detailed instruction
3. Define Device endpoint for each vehicle you want to track - give friendly name of your Previa and PIN (some random will be provided - you can change it if you want)
4. Run SpySat mobile application on the smartphone and type there your LOGIN from SpySat (ex. johndoe) and PIN (from point 3.)
5. Install your smartphone inside the car
6. Enjoy watching position of your car at spysat.eu site.
7. Provide stable power supply - spysat app consumes some energy.
Best options to install smartphone inside Toyota Previa
Users opinions and questions
Auto dream, August sensationally leads, plenty of space and of the very comfortable seats. Riding for 6 years and was an exchange of serious faults cooler
Find your Toyota cars GPS Tracking local services