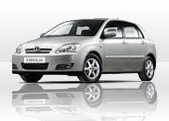 Toyota Corolla E12 GPS Tracking
Track your Corolla E12 for free and visualize it on map
Produced from:
2002
Produced to:
2007
How to track your favourite Toyota - model Corolla E12 in realtime for free ?
Producer remarks about this particular model
Ninth-generation Corolla went into production at the end of 2001 years. The car has been completely redesigned - the predecessor so it connects only the name. Auto body finally received, which can easily accommodate four adults, the styling of the car broke with the obłymi shape predecessor. Sorry, manufactured in the UK Toyota ceased to be an icon of reliability (combo produced in Turkey). Cars, despite the fact that their competitors, can still pass as a model, however, suffer from several common ailments. In the early years of production (until 2003) car users often visited Authorized Service Stations due to excessive oil consumption in units of gasoline. Four-valve engines equipped with variable valve timing mechanism often require refills oil drain intervals. Some sites Toyota engaged in such warranty. Sealants valve replacement, but mostly it is not nothing seemed. It is worth noting that Toyota aware of the problem, in cars operated in harsh environments (car fleet) of new applied thicker - semi-synthetic oil, instead of "full synthetic". So if you intend to travel rapidly (often turning the motor to 6-7 thousand. Rev. / Min) every few weeks, it is good to check the condition of the oil. Sometimes the damage is the drivetrain. Offensive operation by drivers with line athlete can not withstand the gearbox (problems with one and falling out of individual ratios) and coupling. However, these are isolated cases, like a head gasket fault or incendiary light "check engine". A shortcoming of harassing a relatively large number of vehicles is common in burn-out bulbs dipped. As with other Japanese cars have to be careful on the very easy to scratch, "organic" paint. Diesels are worth recommending. Performs well in both two-liter engine and later introduced the 1.4 D-4D (both 90-wheelers). Cars in the station wagon were often exploited by companies, so you should check that the selected vehicle is not behind the past fleet.
Our product description
We are offering you completely free of charge our GPS car tracking solution in real time. The only thing you need to do is to install smartphone with Android inside your vehicle with our awesome application on board
If you want to track your Toyota Corolla E12 in real time you have to do the following :
1. Download Free Car Tracking Application for Corolla E12 application from Google Play
2. Create free account on spysat.eu (for example johndoe) - here is detailed instruction
3. Define Device endpoint for each vehicle you want to track - give friendly name of your Corolla E12 and PIN (some random will be provided - you can change it if you want)
4. Run SpySat mobile application on the smartphone and type there your LOGIN from SpySat (ex. johndoe) and PIN (from point 3.)
5. Install your smartphone inside the car
6. Enjoy watching position of your car at spysat.eu site.
7. Provide stable power supply - spysat app consumes some energy.
Best options to install smartphone inside Toyota Corolla E12
Users opinions and questions
Find your Toyota cars GPS Tracking local services