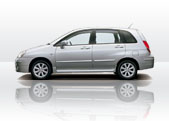 Suzuki Liana GPS Tracking
Track your Liana for free and visualize it on map
Produced from:
2001
Produced to:
today
How to track your favourite Suzuki - model Liana in realtime for free ?
Producer remarks about this particular model
The production model Liana started in 2001. It is the successor model of the Suzuki Baleno / Esteem . Model Liana is available in two body styles as a 4- door sedan or 5- door hatchback . The car initially characterized by a fairly poor running due to bad design of this suspension. During the modernization in 2004, this drawback is removed and since that time these vehicles run very well , but many users complain about too athletic (and thus hard) suspension settings . Vehicles offered on the Polish market characterized by a very affordable price and very extensive standard equipment - much better than the competing cars . Standard equipment of the vehicle , among other things air conditioning, ABS with EBD , electric windows , electrically adjustable and heated mirrors, heated seats , very good quality audio system , four airbags, power steering, central locking with alarm and fog lights . Vehicles offered with petrol engines with a capacity of 1.3 and 1.6 liter diesel and 1.4-liter . Displacing 1.6 liters and Liani very good performance (acceleration 0-100 km / h at 11 seconds) . The vehicle despite the relatively small wheelbase provides plenty of space travelers . It is thanks to the construction of seats , which, thanks to special high clamping passengers leave plenty of room for your legs. The disadvantage of this solution is to reduce the capacity of the luggage compartment. Users praise vehicles driving comfort , spacious interior , generous equipment , very solid construction, high uptime , low fuel consumption , good performance and handling (versions after upgrading ) . The disadvantages include the loud engine 1.6-liter , a small trunk in the 5-door version and bad behavior of the car when cornering (versions before upgrading ) . Users also complain to the factory Bridgestone tires , which can not cope on Polish bad roads . Despite the undeniable advantages of positive feedback and professionals vehicle has not won recognition in Poland. The reason for this is probably his controversial style , as well as a weak brand recognition Suzuki.W 2007 is presented successor constructed jointly with Fiat - SX4 model , which is much more popular .
Our product description
We are offering you completely free of charge our GPS car tracking solution in real time. The only thing you need to do is to install smartphone with Android inside your vehicle with our awesome application on board
If you want to track your Suzuki Liana in real time you have to do the following :
1. Download Free Car Tracking Application for Liana application from Google Play
2. Create free account on spysat.eu (for example johndoe) - here is detailed instruction
3. Define Device endpoint for each vehicle you want to track - give friendly name of your Liana and PIN (some random will be provided - you can change it if you want)
4. Run SpySat mobile application on the smartphone and type there your LOGIN from SpySat (ex. johndoe) and PIN (from point 3.)
5. Install your smartphone inside the car
6. Enjoy watching position of your car at spysat.eu site.
7. Provide stable power supply - spysat app consumes some energy.
Best options to install smartphone inside Suzuki Liana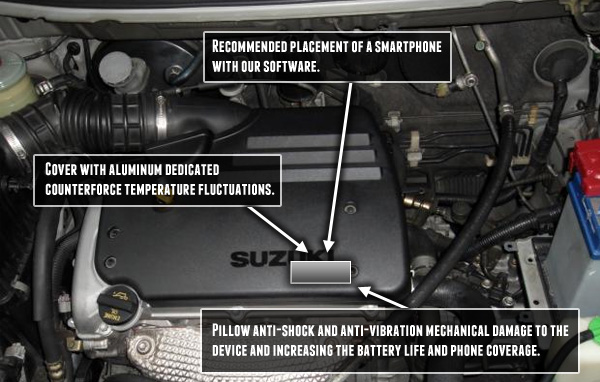 Engineers found that the engine of the car radiator awful shakes. For this reason, use double lining made ​​of a special material anti vibrating. You should be aware that it does not apply this product will result in damage to the device.
Users opinions and questions
Taking into account the favorable price for the whole I would give 4+. The interior is neatly finished and made of good materiałow.Audio at a good level.
Find your Suzuki cars GPS Tracking local services