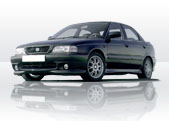 Suzuki Baleno GPS Tracking
Track your Baleno for free and visualize it on map
Produced from:
1995
Produced to:
2007
How to track your favourite Suzuki - model Baleno in realtime for free ?
Producer remarks about this particular model
Suzuki Baleno ( in the U.S. known as the Suzuki Esteem ) produced by the Japanese company Suzuki Motor Corporation is the export version of the Suzuki Cultus Crescent. In India is manufactured by Maruti and Maruti Baleno sold as . Baleno was introduced to the international market in 1995 and was the debut of Suzuki in segment C. At this time in Europe in the segment dominated by models such as the Volkswagen Golf cars and Opel Astra , and Japanese Nissan Sunny and Toyota Corolla . Baleno is built on the same platform as the Suzuki Swift ( called the Suzuki Cultus in Japan ) , with extended wheelbase and increased cabin . Many of the components he took over from his younger brother , however, the market has been introduced as a new and separate model . Baleno was initially available as a 3 - door hatchback or 4 - door sedan with engines 1.3 L , 1.6 L and 1.8 L with maximum power of 85 hp (63 kW ), 97 hp ( 73 kW ) and 121 hp ( 89 kW ) . In 1996 he introduced a 5- door station wagon version called Baleno Break ( Esteem Wagon in America, Baleno Altutra in India and Cultus Crescent Wagon in Japan) . It was the first car with bodywork combo in the history of the company. Used in the already known 1.6 L engine , this model variant was available with an optional four-wheel drive . Suzuki Baleno was modernized in 1999. Was revised front end and dashboard ( heating sliders replaced buttons ) . In North America, the Esteem 1.8 Station Wagon completely replaced the Esteem 1.6, and in many markets sedan with a 1.8 L engine became the sports model of Suzuki . In the UK and Australia 1.8 L unit mounted in hatchbackach and sold in a limited edition Baleno GSR (version before the facelift was marked as a GSX and was sold exclusively in the Benelux ) . European versions were equipped Baleno also supplied by Peugeot diesel engine ( with turbocharger and intercooler without ) 1.9 L 75 hp (55 kW) . Esteem / Baleno was replaced in many markets by the model Liana / Aerio . Production in Japan ended in 2002 , transferring it to other countries. In the same year, was withdrawn from the European market and the U.S. after the parallel sale of Liana / Aerio . The car remained available in the markets of many developing countries (among others. India , the countries of South Asia ) until 2007, when its production was halted at the Maruti factory and its assembly line adapted for the production of the Suzuki SX4 sedan .
Our product description
We are offering you completely free of charge our GPS car tracking solution in real time. The only thing you need to do is to install smartphone with Android inside your vehicle with our awesome application on board
If you want to track your Suzuki Baleno in real time you have to do the following :
1. Download Free Car Tracking Application for Baleno application from Google Play
2. Create free account on spysat.eu (for example johndoe) - here is detailed instruction
3. Define Device endpoint for each vehicle you want to track - give friendly name of your Baleno and PIN (some random will be provided - you can change it if you want)
4. Run SpySat mobile application on the smartphone and type there your LOGIN from SpySat (ex. johndoe) and PIN (from point 3.)
5. Install your smartphone inside the car
6. Enjoy watching position of your car at spysat.eu site.
7. Provide stable power supply - spysat app consumes some energy.
Best options to install smartphone inside Suzuki Baleno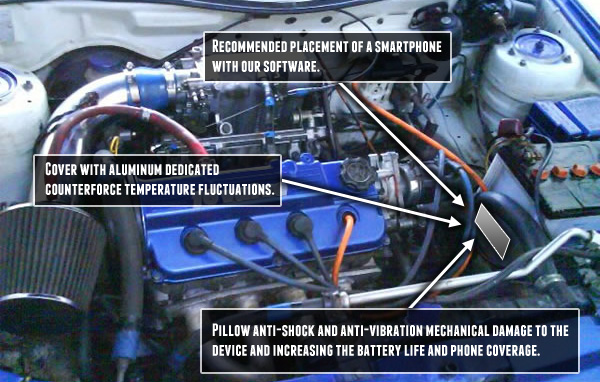 Engineers found that the engine of the car alternator awful shakes. For this reason, use double lining made ​​of a special material anti vibrating. You should be aware that it does not apply this product will result in damage to the device.
Users opinions and questions
The car is really worth recommending. External appearance is original, the car certainly stands out on the road, it's hard not to draw attention to him.
Find your Suzuki cars GPS Tracking local services