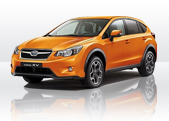 Subaru XV GPS Tracking
Track your XV for free and visualize it on map
Produced from:
2011
Produced to:
How to track your favourite Subaru - model XV in realtime for free ?
Producer remarks about this particular model
In more than 2014 years auto gentle facelift. In the model with 2.0-liter petrol engine suspension changed. In all, a new version of the vehicle bulkhead separating the engine compartment from the passenger compartment, which isolates the passenger cabin from the engine work culture. Reprogrammed electric power steering, a system enabling dynamic damper that reduces vibration transmitted to the steering wheel, reinforced base pillar is standard added pressure monitoring system (TPMS) and Gear Shift Indicator, which is the indicator suggesting the best time to change gear
Our product description
We are offering you completely free of charge our GPS car tracking solution in real time. The only thing you need to do is to install smartphone with Android inside your vehicle with our awesome application on board
If you want to track your Subaru XV in real time you have to do the following :
1. Download Free Car Tracking Application for XV application from Google Play
2. Create free account on spysat.eu (for example johndoe) - here is detailed instruction
3. Define Device endpoint for each vehicle you want to track - give friendly name of your XV and PIN (some random will be provided - you can change it if you want)
4. Run SpySat mobile application on the smartphone and type there your LOGIN from SpySat (ex. johndoe) and PIN (from point 3.)
5. Install your smartphone inside the car
6. Enjoy watching position of your car at spysat.eu site.
7. Provide stable power supply - spysat app consumes some energy.
Best options to install smartphone inside Subaru XV
Users opinions and questions
Roadholding in all conditions, handling, braking, driving position, the service cockpit
Find your Subaru cars GPS Tracking local services