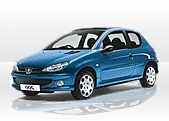 Peugeot 206 GPS Tracking
Track your 206 for free and visualize it on map
Produced from:
1998
Produced to:
2012
How to track your favourite Peugeot - model 206 in realtime for free ?
Producer remarks about this particular model
The car was presented in 1998 as a three and five-door hatchback . At the beginning it was offered with petrol engines with capacities of 1124 (60 hp) , 1360 ( 75 hp) and 1560 cm3 (90 hp ) and 1,868 cm3 diesel engine and 70 bhp . A year later joined the sports version called the S16 with an engine capacity of 1997 cm3 and 135 hp , and the 2 -door convertible - coupe with electric folding , split , hardtop , called CC . The same engine received a GT version , which was produced in order to be able to homologate the model 206 as auto racing WRC . This version was longer than the standard 206- fives by a revised bumpers , it was required by law that said that WRC cars must have a minimum of 4 meters in length. In 2000, the diesel 1.9 l joined by a new 2.0 HDi diesel engine with a capacity of 1997 cm3, common rail technology and power of 90 hp . In a plebiscite on the European Car of the Year 1999 model took 3 position ( for the Ford Focus and Opel Astra G).In 2005, the presented version of the sedan, which is produced by a company Iran Khodro in Iran. At the beginning of 2009 presented a modernized variant of this model , called the Peugeot 206 + . Changes included mainly car body , where used front bumper and lamp referring to the current line of Peugeot's styling . The rear end features a new bumper and rear lights with a revised formula shade. Inside refreshed dashboard.
Our product description
We are offering you completely free of charge our GPS car tracking solution in real time. The only thing you need to do is to install smartphone with Android inside your vehicle with our awesome application on board
If you want to track your Peugeot 206 in real time you have to do the following :
1. Download Free Car Tracking Application for 206 application from Google Play
2. Create free account on spysat.eu (for example johndoe) - here is detailed instruction
3. Define Device endpoint for each vehicle you want to track - give friendly name of your 206 and PIN (some random will be provided - you can change it if you want)
4. Run SpySat mobile application on the smartphone and type there your LOGIN from SpySat (ex. johndoe) and PIN (from point 3.)
5. Install your smartphone inside the car
6. Enjoy watching position of your car at spysat.eu site.
7. Provide stable power supply - spysat app consumes some energy.
Best options to install smartphone inside Peugeot 206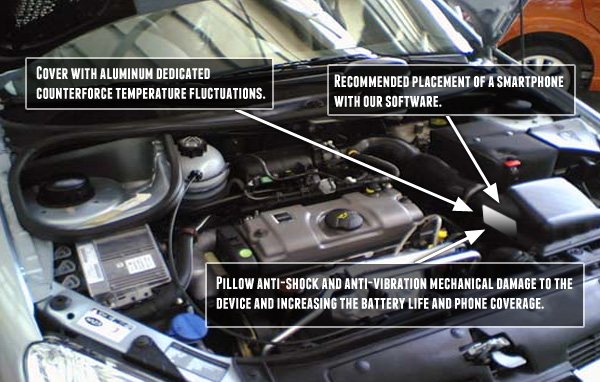 Our engineers together with engineers from Peugeot developed an optimal place we should put a tracking device. The device should be packaged in a special case. It is protected against mechanical shock and sudden temperature changes. An important element is the airbag anti-shock eliminates most dangerous vibrations
Users opinions and questions
Find your Peugeot cars GPS Tracking local services