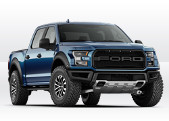 Ford F-150 GPS Tracking
Track your F-150 for free and visualize it on map
Produced from:
1948
Produced to:
How to track your favourite Ford - model F-150 in realtime for free ?
Producer remarks about this particular model
The Ford F-Series is a series of light-duty trucks and medium-duty trucks (Class 2-7) that have been marketed and manufactured by Ford Motor Company. In production since 1948, the F-Series includes full-size pickup trucks, chassis cab trucks, and commercial vehicles. As of 2019 production, the Ford F-Series includes the F-150 pickup, Class 3-5 Super Duty trucks (F-250 through F-550), and the Class 6-8 Super Duty trucks (F-650, F-750). The most popular version of the F-Series is the F-150, now in its thirteenth generation.
Our product description
We are offering you completely free of charge our GPS car tracking solution in real time. The only thing you need to do is to install smartphone with Android inside your vehicle with our awesome application on board
If you want to track your Ford F-150 in real time you have to do the following :
1. Download Free Car Tracking Application for F-150 application from Google Play
2. Create free account on spysat.eu (for example johndoe) - here is detailed instruction
3. Define Device endpoint for each vehicle you want to track - give friendly name of your F-150 and PIN (some random will be provided - you can change it if you want)
4. Run SpySat mobile application on the smartphone and type there your LOGIN from SpySat (ex. johndoe) and PIN (from point 3.)
5. Install your smartphone inside the car
6. Enjoy watching position of your car at spysat.eu site.
7. Provide stable power supply - spysat app consumes some energy.
Best options to install smartphone inside Ford F-150
The Ford F150 is huge. It's not just a car, it's the quintessential American technical way of life for both a simple farmer from Texas and a rich businessman from Los Angeles.
For each of us, the Ford F150 is simply a symbol of American motoring and strength,

if you are wondering Where to put the phone in case of the Ford F150 to start tracking it immediately you have over thousandof options.

The temperature under the hood of the V8 engine may be a bit much you need a thermal shield made of aluminum, because if you place the phone directly it can be damaged and melted.
Some of the options are presented on the diagram below: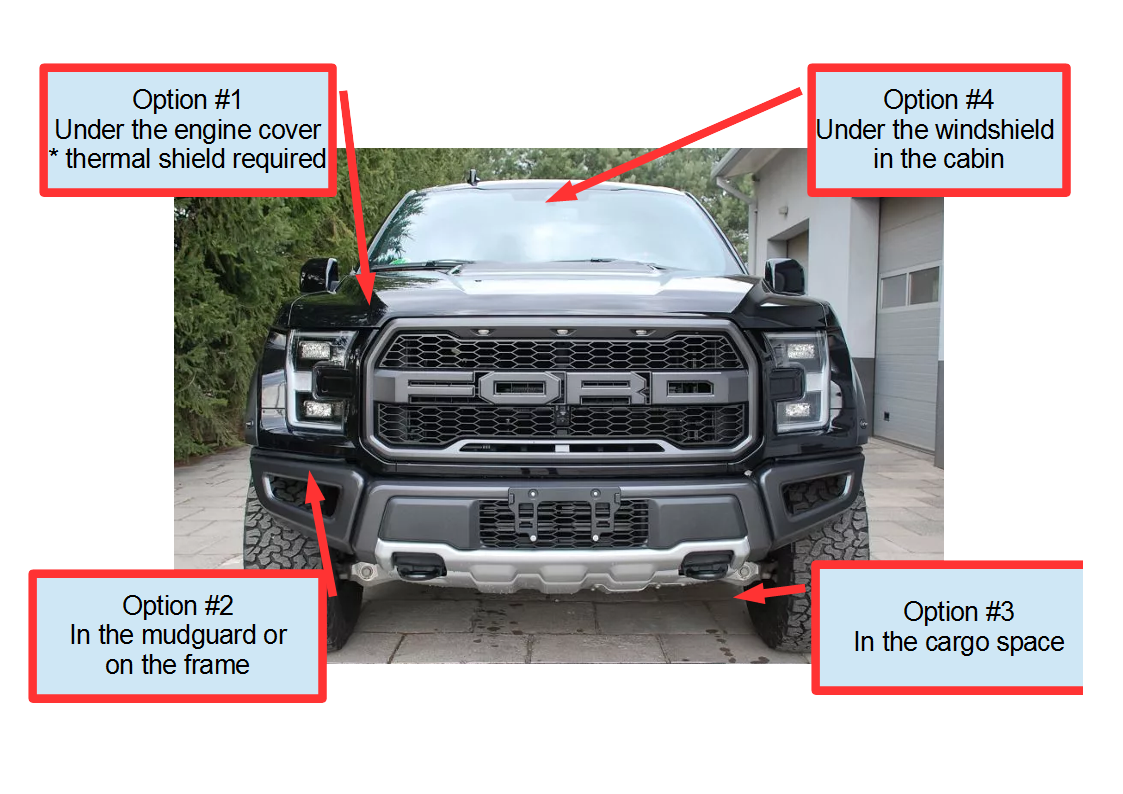 However, you have a lot of possibilities to arrange the telephone assembly inside the cabin inside the load box and even under the car.

Large spaces above the wheels as well as between the aluminum gate cab give you the free option of mounting the phone also with constant access to battery power.

If you are an expert in the field of motorization, it is recommended to go to a car electrician in order to consult the optimal arrangement of cables so that it is safe for others, it does not interfere with other components of the car.
Users opinions and questions
This giant pickup has been the most-bought car in the United States for 32 years in a row. In its latest, 13th generation, the Ford F-150 also turns out to be a highly technical vehicle.

Ford has thoroughly rebuilt its F-150. The electric power steering works extremely precisely. This does not mean, however, that the 2 m wide and 6.5 m long ones have become the champion of dynamic driving. In this case, other values ​​matter. Designers are delighted with the new door handles, which can now be opened even in thick gloves, or large pedals that can be operated in work boots.

The frame is still made of steel, but the body, like the Range Rover, is made of riveted and glued light metals. In this way, the cruiser lost almost 350 kg, and the weight, which the engineers took from the mass of the vehicle, the customer can throw on a pitch or pull on the hook. The payload and weight of the trailer in Ford F-150 are "best of class". It is enough to look at this giant, to have no doubt that he will deal with a five-ton trailer.

Americans are obviously proud of the five-liter V8 engine, which caresses the ears with wonderful sound, and also gives the power of 385 horses and 525 Nm of torque. However, they introduced smaller engines to the offer. They praise primarily the smallest six-cylinder engine with a capacity of just 2.7 liters, from which they pulled 325 hp and 508 Nm from the top-up.
Find your Ford cars GPS Tracking local services